The Leap Manifesto: A Call for Caring for the Earth and One Another
Global climate change pledges will not be enough: U.N
Chinese cities pledge early carbon emissions peak under deal with U.S.
Ca. district to clean up contaminated water
David Attenborough backs huge Apollo-style clean energy research plan
Fiat Chrysler, UAW reach tentative contract deal
2-tier wages, health care part of UAW-FCA agreement
UAW, Fiat Chrysler reach tentative labor pact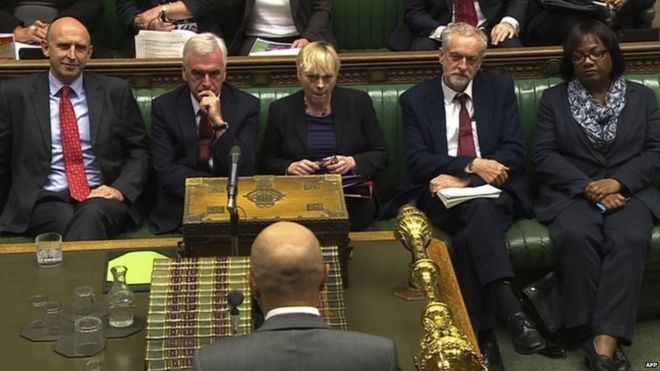 Jeremy Corbyn to make debut at Prime Minister's Questions
Corbyn's TUC address shows Labour politics is a new game now
Pressure on Labour over EU as union vote sounds alarm
Bernie Sanders rejects 'vicious' attack over his support for UK Labour leader
Jeremy Corbyn at TUC: 'Labour can win 2020 election'
Seattle teachers strike reaches tentative deal
Leaders of Seattle teachers' union vote to end strike
U workers deliver petitions demanding fair contract
Guatemala Labor Case Unmasks Free Trade's Empty Promises
Labor launches new push in Fight for $15 wage hike campaign
Y-12 labor pact extended again; union workers to get $1,250
HP to jettison up to 30,000 jobs as part of spinoff
Pope Francis meeting with Fidel Castro in Cuba 'probable': Vatican
Half a million migrants counted at EU border
Stories from the New York Times will be followed with a *. The Times pay wall polic
y allows free access to only about ten articles a month.
We take a closer look at news stories in our companion Week In Review blog, hosted at:
KC Labor at WordPress