We'll be observing our Independence Day holiday Monday, July 6. Next news update will be Tuesday, July 7.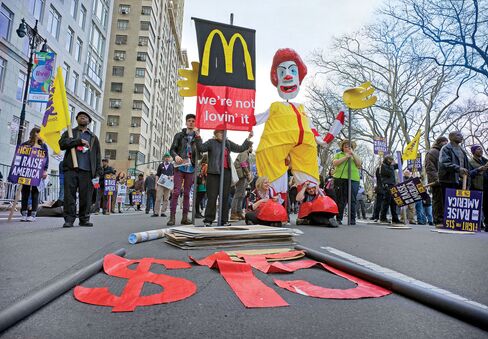 Craig Ruttle/AP Photo
The SEIU's Odd Recipe for Unionizing Fast Food

Transit Strikers Defend Full-Time Jobs and Bathroom Breaks
Workers strike at Hudson Yards and other sites
Chinese Factory Workers Strike for Layoff Compensation
New maps, court rulings show disparate impact of environmental injustice
Train Carrying Toxic Substance Derails in Tennessee *
Despite latest jobs report, recovery eludes DC's low-income residents
BLS June Employment Situation Report
The New Jobs Numbers Are Weaker Than They Look *
Puerto Rico's crisis leaves many jobless

Who is really being bailed out in Greece?
Ontario unions pledge to 'redouble efforts' to fight Tories in election
Glenn Ford, Spared Death Row, Dies at 65 *
Republican Governors Signal Their Intent to Thwart Obama's Climate Rules *
Employers Have Greater Leeway on Unpaid Internships, Court Rules *

Stories from the New York Times will be followed with a *. The Times pay wall polic
y allows free access to only about ten articles a month.
We take a closer look at news stories in our companion Week In Review blog, hosted at:
KC Labor at WordPress