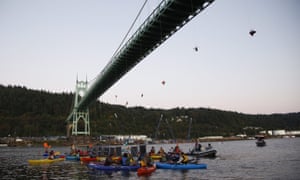 Activists rappel off Oregon bridge to stop Shell icebreaker
Keystone pipeline's fate to be decided during Obama's term
$15M settlement in Hawaii molasses spill
'Unusually large' oil slick off California coast spotted near site of May spill
Hillary Clinton's climate change plan 'just plain silly', says leading expert
Keystone XL pipeline bill: Alberta will not lobby U.S.
Menorah Medical Center Nurses Plan Picket
Illinois, public labor union extend no-strike agreement
Supreme Court upholds right-to-work for state workers
Union hires add twist to highly-politicized Quincy Center project
Construction workers refused entry to Columbia conference on city development
Minimum wage workers to get raise Aug. 1
Greek fire sale? Privatization proves more complicated
Cincinnati officer indicted for murder in death of black driver
Bus drivers targeted in El Salvador gang war
UN urges DR to stop Haitian deportations
Guardian US staff vote to unionize
Blame government policies for the economic slowdown


Is the Ugly German Back?

Flames of Hate Haunt a Nation


Campaigns, start your engines: Stephen Harper to call election as early as Sunday
Planned Parenthood president: We will not be defeated by extremists
House approves cutting workplace protections for VA workers
As Medicare and Medicaid Turn 50, Use of Private Health Plans Surges *
Stories from the New York Times will be followed with a *. The Times pay wall polic
y allows free access to only about ten articles a month.
We take a closer look at news stories in our companion Week In Review blog, hosted at:
KC Labor at WordPress