Food chain collapse predicted in world's oceans
France's Corsica: from 'isle of beauty' to 'isle of trash'
California adopts strict new antibiotics law
Can Autoworkers Save the Climate?
Antarctic ice is melting so fast the whole continent may be at risk by 2100
Solar and Wind Just Passed Another Big Turning Point
Mexico is interested in Quebec's cap-and-trade carbon market
Oil Sands Boom Dries Up in Alberta, Taking Thousands of Jobs With it *


UAW sets 2-day voting period for new FCA contract
UAW turns to influential PR firm to explain FCA deal
UAW ups social media efforts before members vote on new FCA deal
UAW veterans could still pay their first deductibles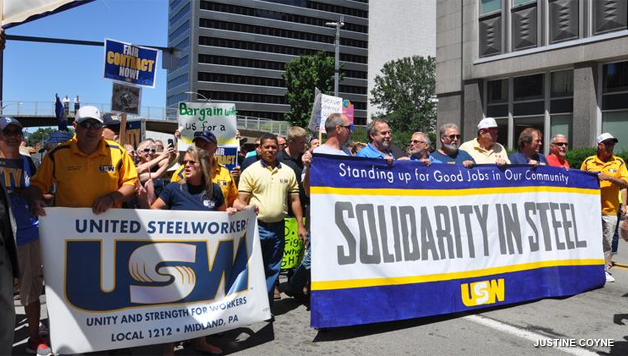 ATI Steelworkers Locked Out for Two Months
Recalling the struggle of South's labor unrest

Arrests over Air France violence angers unions, left
Workers paid less than $15 an hour overwhelmingly support unions
Two big health care labor unions appear headed for Splitsville
Railroad Work Is Getting More Dangerous. These Workers Want To Change That.
Adjuncts Win Union Contract at Maryland Institute College of Art
Indigenous Peoples Day celebrated in Lawrence
Help Toledo's Homies Train the Next Generation of FLOC Leaders
High Quality Child Care Is Out of Reach for Working Families

British Government to Sell Remaining Stake in Royal Mail
*
Stories from the New York Times will be followed with a *. The Times pay wall polic
y allows free access to only about ten articles a month.
We take a closer look at news stories in our companion Week In Review blog, hosted at:
KC Labor at WordPress