Calif. effort to save water comes at a cost
VW Tsunami:
Falsified Emissions Push Company to Limits
Montreal's raw sewage to be dumped into St. Lawrence River as planned
Alaska officials eye eroding village as relocation model
US regulator missed its best chance to catch VW cheating
Great Lakes face threat from another Enbridge line
U.S. workers sue Monsanto claiming herbicide caused cancer
A story of hope: the Guardian launches phase II of its climate change campaign
UAW, FCA officials miscalculated young worker angst
U.S. Auto Union Faces Tough Road to Salvage Failed Contract *
UAW to explore new deal with FCA
Williams told UAW leaders sweeter offer will be tough
Agreement at Ford Kansas City F-150 plant averts strike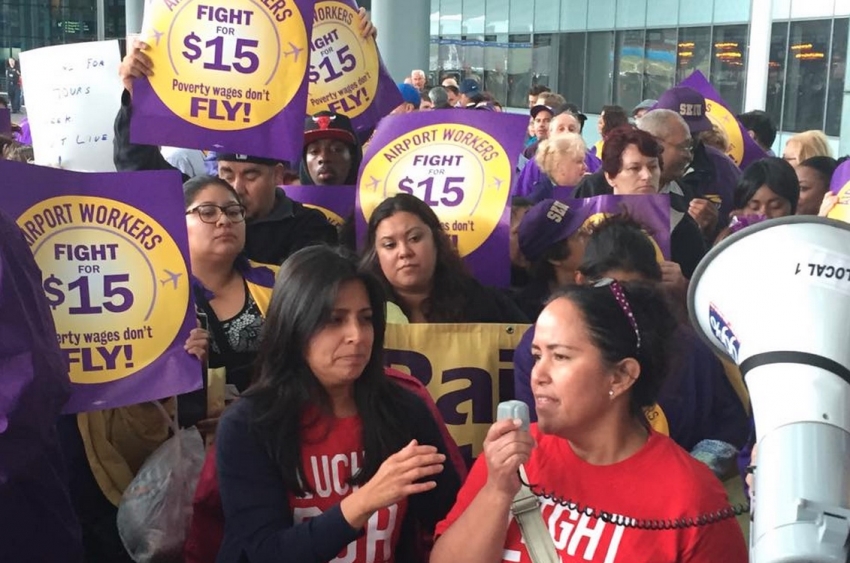 The Fight For 15 Just Landed at America's Busiest Airport
UN slams 'inexcusable' US airstrike that killed 19 at Afghan hospital
Doctors Without Borders leaves Kunduz
Lackluster job numbers raise concerns about the economy
Pope endorses organizing by car wash workers
Missouri governor commutes death sentence
Spain grants citizenship for expelled Jews
NDP won't be 'bound' by Trans-Pacific trade deal, Tom Mulcair says
Kansas City Streetcar Authority finally signs contract with system operator
Plan to create white nationalist enclaves in Kansas and Nebraska roils residents
Clashes after Mexico City massacre protest
Canada vote frontrunner falters but race too close to call
Thousands march in Vienna to show support for migrants
Denis Healey, Fixture in Labour Party, Dies at 98 *
Marty Beil, Wisconsin Union Leader Who Lost Fight With Walker, Dies at 68 *
The Hypocrisy of 'Helping' the Poor *
Union representing Solano County workers votes to strike if necessary
Fired Ontario hotel workers file unfair labor charges against DoubleTree
On high court's docket: Race, labor, politics -- and abortion?
Stories from the New York Times will be followed with a *. The Times pay wall polic
y allows free access to only about ten articles a month.
We take a closer look at news stories in our companion Week In Review blog, hosted at:
KC Labor at WordPress