Plan to Expand a Pipeline at Indian Point Raises Concern *
Help nuclear reactors Tihange 2 and Doel 3 final closing
EU not seen increasing emissions targets despite Paris deal: draft
EPA requests information from Mercedes-Benz over emission levels
As sea levels rise, economic damage piles up even faster: study
How Leonardo DiCaprio became one of the world's top climate change champions
EU set to emit 2bn tonnes more CO2 than Paris climate pledge
E-mails: Snyder could have declared Flint emergency sooner
Move on carbon pricing likely to cause tensions at first ministers meeting


The Fight Against Capital Transit's Jim Crow Hiring: 1941-55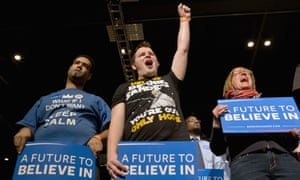 Why are there suddenly millions of socialists in America?
How radical is Bernie Sanders?
Union president claims Stop & Shop management stormed out of negotiations
Fulop Issues Executive Order to Raise City Workers' Pay to $15 an-hour
WAVE Transit supporters decry cuts at public comment session
Pension Fight Reaches the Rio Grande
Construction workers walk off Tesla's new Reno site in protest over pay
Labor union seeks review that could block $4.75 billion merger
Finnish unions, employers reach preliminary labor deal: workers group
AT&T strikes tentative agreement with retail, call center employees
Union troubles at Honda Motorcycles plant in Tapukara
Nurses in several Chinese cities strike over low pay and benefits

Trump rally turns violent: photographer thrown to ground amid protests
Apple case: judge rejects FBI request for access to drug dealer's iPhone
Chilean pianist performs in Poland after being beaten for 'looking like an Arab'
Jeremy Corbyn 'not on same side' as David Cameron in EU debate
Downtown Toronto subway, streetcar service halted by hydro vault fire
Monsanto Given Legal Shield in a Chemical Safety Bill *
Gawker and Union Reach Agreement on Contract *
Stories from the New York Times will be followed with a *. The Times pay wall polic
y allows free access to only about ten articles a month.