Is your weed killer carcinogenic?
ExxonMobil, Rockefellers face off in climate battle
Netherlands Aims To Ban All Non-Electric Cars By 2025
Delta drought gives glimpse into bleak future for mighty Mekong
US and China lead push to bring Paris climate deal into force early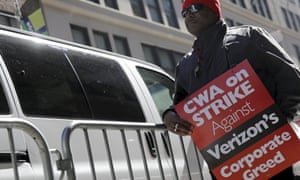 I'm a Verizon employee. Here's why I'm on strike



Chicago union says clock has started toward teachers' strike


Airbnb negotiations with powerful US labor union facing backlash
Union workers paint the Mary A. Whalen for free
Union Seeks Higher Tariffs on U.S. Imports of Raw Aluminum *
Union: Animals will be cared for in case of Brookfield Zoo strike
The Trouble With Cambodia's New Law on Trade Unions
Backhoe in Philadelphia Amtrak accident had right to be on track: report


Cuba calls Obama visit 'an attack' as Communists defend ideology




'Moral Monday' leader removed from American Airlines flight




Most Germans oppose Merkel on prosecution of comedian, poll shows




Kuwait oil workers' strike sees output plunge


Labour tells Jeremy Hunt to clarify position on junior doctors' contract
Govia Thameslink takes Aslef union to court over longer trains dispute
Pentagon increases US troops and financial aid in fight against Isis

Stories from the New York Times will be followed with a *. The Times pay wall polic
y allows free access to only about ten articles a month.