Unseasonably warm weather a clear sign of climate change, say scientists
Lured by Early Warm Weather, Scorpions Emerge to Swarm Arizona Homes *


Verizon Agrees to Raise Pay in 'Final Offer' to Labor Unions
NFL players union gives Draft Day support to Verizon strikers

Connecticut march protests austerity budget
ATU renews call for safety culture at all workplaces on Workers' Memorial Day
France labour law protests turn violent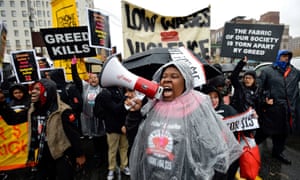 'The state stole my raise': workers sue Alabama over 'racist' wage law
Vancouver bus drivers vote in favour of strike action
Carpenters seek union at Aaron Carlson Corp. in Morris
Organizers, Aim for the Bullseye!
Brigham Nurses to Protest Contract Talks
Recently Retired UE Organizer Jim Ermi Dies at 60
Workers Say T-Mobile Created A Fake Union To Kill The Real One
It's easy to blame unions for all of Metro's problems. It's also wrong
Labor agency files complaint against VW on row with UAW in Tennessee
Agreements Reached with Labor Unions at Saint Michael's Medical Center
The Attack on Democracy and Secularism in India
Tony Blair courted Chinese leaders for Saudi prince's oil firm
Jeremy Corbyn denies Labour crisis over antisemitism
Why Is Productivity So Weak? Three Theories *
As Russians Struggle to Pay Bills, Debt Collectors Mimic the Mob *
Colorado Weighs Replacing Obama's Health Policy With Universal Coverage *
Stories from the New York Times will be followed with a *. The Times pay wall olic
y allows free access to only about ten articles a month.