s
Our Fight for Survival
A Superfund for Workers
World's richest 10 percent produce half of CO2, report says
In the trench war over climate text, a little means a lot
Doomsday revisited: will warming deprive us of oxygen?
Nicaragua refuses to make carbon-cutting pledge
New coal plants would tip Earth to dangerous warming: report
The ecosocialism debate: a response to Daniel Tanuro
The crucial language behind the Paris climate talks
Disaster looms as California's largest inland sea disappears
Paris talks come at an urgent moment for the planet
Paris climate summit: Survey reveals 'greenwash' of corporate sponsors
Obama upbeat in face of climate challenges
Going for Broke in Paris: It's Now or Never for the Climate
The Marshall Islands Are Disappearing *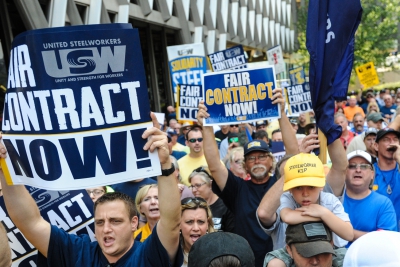 Locked Out Steelworkers Resist Company Wish List

Walker Methodist trying again to bust union, workers say
How will MPs vote on Syria airstrikes?
David Cameron accuses Jeremy Corbyn of being 'terrorist sympathiser'
NYU Is Not Upholding Labor Contract, Grad Student Workers Say
Unions reach tentative contract at Y-12
Puerto Rico has begun to default, governor says; status of payment unclear
US deploying elite force to fight ISIL
Stories from the New York Times will be followed with a *. The Times pay wall polic
y allows free access to only about ten articles a month.
We take a closer look at news stories in our companion Week In Review blog, hosted at:
KC Labor at WordPress